News Room
Asan Image Metrics (AIM) Open, Seoul Asan Medical Center
2017 May 17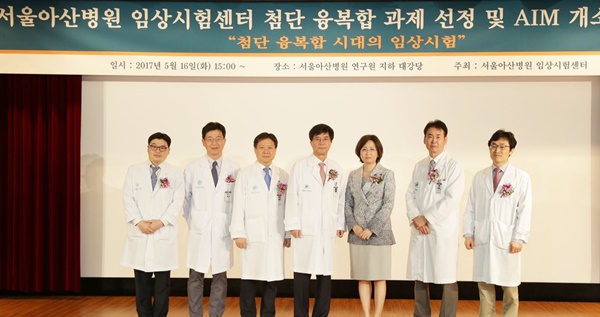 Clinical Trial Center in Asan Medical center held the opening ceremony of Asan Image Metrics (AIM) on 16th of May, 2017.
AIM has been recently selected as one of projects for the development of advanced convergence clinical trial technology by Korea Clinical Trials Global Initiative (KCGI), and it will be supported for 1 year and 9 months with about one million US dollars.
During the ceremony, symposium was also held with experts in a variety of fields for clinical trial development. A diversity of topics such as global clinical trial trend & international sites experience, clinical trial imaging, big data utilization in clinical trial was discussed.
Dr. Yim, Young Seok, a director of clinical trial center, said "we will always endeavor to secure global competitiveness in clinical trial through systematic imaging data management by AIM, and reduce clinical trial cost and time based on convergence technology using the big data of clinical trial